Description
Adopt The New Advanced AI System For Effortless And Efficient Cleaning !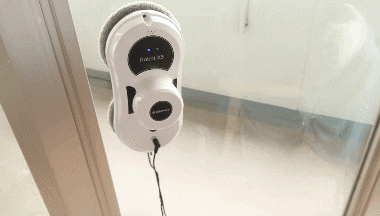 Features:
✔️ Built-in smart navigation system :that auto-detects window frames and obstacle.
✔️  3 Auto Cleaning Modes: Optimized and pre-programmed cleaning routes for better lifting superficial dirt and debris from the glass, as well as thoroughly wiping away smudges or grimy residues.First up and then down, first left and then down, first right and then down, and return to the starting position.
✔️  UPS Anti-Fall Protection: UPS system offers enough suction (5600pa) to adhere tightly to upright windows for 30 minutes when the power is interrupted; a high tensile-strength safety cord 4.5m to prevents damage in case of power loss or suction failure.
✔️  One-Push Operation: Just push down to the switch-on button to power on this window cleaning robot; if like, you can select its cleaning routes via the remote control included.
✔️  Multiple Applications: Perfect for different types of glass, from framed windows to colored and tinted windows and also for doors, mirrors, desks, tiled wall and more.
Fast Cleaning Speed: 4mins/square meter cleaning speed (clean twice everywhere), do the cleaning job with high speed and high efficiency.
Max. 30 Minutes Standby Battery: There is a battery backup to prevent an unexpected power outage. Please confirm the battery is full (green LED).
Remote Control Function: The included remote controller can control cleaning mode switching, start/stop.


Note:
1. Do not use on no frame glass.
2. Fasten the safety rope before using, to prevent falling from high altitude.
3. First power on and then place the robot on the window glass.
4. Make sure the machine can be firmly adsorbed on the glass and then let go, it takes about 20 seconds.
5. After finishing cleaning, first, take off the window cleaner robot and then turn off the machine.
6. Do not use it in rainy or wet weather.
7. Please read the user manual carefully before using the product.
How To Use ?


1-Binding The Safety Rope , Plug In The Power Cord And Connect The Power Adapter And Extension Cord .

2- Spray Water On The Cleaning Mops Or Windows

3- Put The Robot On Windows, Turn On The Power Switch

4- Press One Button Start Or Remote Control , Automatic Or Manual , Cleaning Anywhere You Want.

5-Get Your Beautiful Cleaner World



Specifications:
  
Power: 80W
Input Voltage: AC100-240V, 50/60Hz
Output: DC24V, 3.75A
Cleaning Speed: 4 mins/square meter
Max. Cleaning Area: 6 * 5 meters
Cleaning Mode: Manual & automatic
Battery Capacity: 650mAh
Battery Working Time: 20-30 mins
Adhesive Time After Power Outage: Max. 30mins  
Remote Controller Powered by: 2 * AAA battery (not included)
Noise: ≤60dB
Item Size: 298*150*120mm/11.73*5.90*4.72in
Item Weight: 1034g/2.28lb
Package Size: 300*232*130mm/11.81*9.13*5.12in
Package Weight: 1911g/4.21lb


Package List:

1 * Window Cleaning Robot
1 * Remote Control
1 * Safety Rope 4.5M
2 * Suction Cup Ring
5 * Pairs of Spare Cleaning Rag
1 * Spray Bottle
1 * AC Adapter
1 * Power Line-1M
1 * Extension Cord-4M
Payment & Security