Description
YOU JUST FOUND YOUR NEXT TRAINING COACH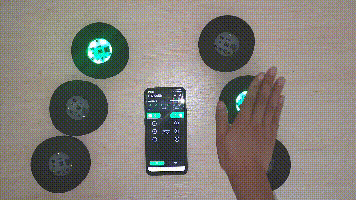 Train like a beast with this device that helps you develop your reaction time, speed, and agility for different kinds of sports such as widely used in football, basketball, badminton, taekwondo, boxing, rehabilitation training for the elderly, children's physical training and other fields and more ! 

FEATURES:
✔️  SMART WIRELESS LIGHT NETWORK: Equipped with multiple reaction lights connected into a network by Bluetooth, will improve reaction time and agility.
✔️  MULTIPLE SENSORS: Support both proximate sensor and vibration sensor. The lamps can sense when you hit it or run beside it.
✔️  EASY TO INSTALL : Attend different kinds of needs with this easy to operate device! High version 3.0 has a magnet and velcro on the back of the lamps, while the low version 2.0 has velcro on the back of the lamps.
LONG RANGE BLUETOOTH: We design better bluetooth connection distance that can support average 35m(high version) low version 2.0 is 10-20M
✔️  WIDE VIEW ANGLE AND AUTO BRIGHTNESS : Has 270 degree wide viewing angle. The lamps will tune their brightness according to the different environments the product is in.
✔️  WELL PROTECTED: The lamps are covered by silicon-gel for impact absorbing. The lamp can withstand a force of 60KG

PACKAGE INCLUDES:
Payment & Security