Description
Reflexology Therapy in every step you take !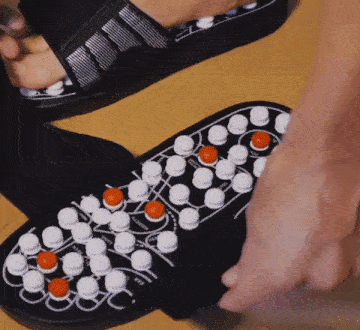 With our acupuncture slippers, enjoy instant relaxation. 
This therapeutic technique is based on the stimulation of the reflex zones of the feet. These acupressure slippers feature acupuncture points that apply pressure to specific areas of the feet to provide beneficial effects on different parts and organs of the body.
Designed to relieve pain and tension in the foot / heel caused by arthritis, neuropathy and plantar fasciitis. Do you suffer from back, foot or head pain or do you want to relax after a hard day? Thanks to acupressure slippers, these pains will disappear!
Promotes better blood circulation to improve general health. 
 The massage points can also be rotated 180 degrees. These practical to wear slippers are freely adjustable to suit your foot. 
Wear these therapeutic massage slippers for 15 minutes each time not all day long and enjoy these long term benefits. The sizes are large but it is made to be worn wide.
Benefits:
✔️ Relief of muscle spasms and improvement of muscle tone.
✔️ 
Elimination of swelling and feelings of fatigue in the legs.
✔️ 
Mood and digestion improvement.
✔️ 
Improve ligaments' elasticity and joint mobility.
Highlights
✔️ 
Long-standing or walking workers who want to ease foot tensions
✔️ 
Office workers who want to relieve muscle tension.
✔️ 
Fitness people who need deep tissue relaxation.
✔️ 
Elderly people who want to improve mobility.
✔️ 
Working overtime, poor quality of sleep, sedentary staff, muscle aches, poor immunity, obesity.
Directions for Use
10-30 minutes per time to enjoy an acupressure foot massager by simple walking.

Wear in the morning to help stimulate and awaken your body.

Not recommended to go out or use it for a long time.

 There will be some pain for beginners. Wear socks and shorten the wearing time will feel better. Increase the wearing time when you are used to it.

Has a better effect with a 10-30 minutes use of per time, 2-3 times every day.
Package Includes
1x Acupressure message slippers
Payment & Security