Description
Making Your Favorite Healthy Dried Food So Easy With The 5-Tray Food Dehydrator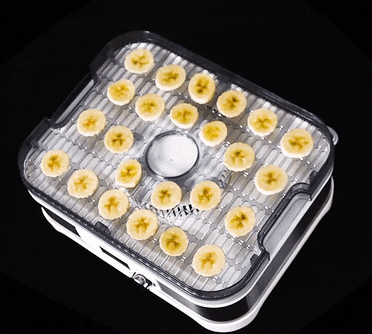 Just cut and place your favorite fruits, vegetables, meat or more onto the food grade transparent trays, set the temperature and timer and let the machine do its magic. The 360 heat-cycling system ensures that every food tray is given the right amount of heat and air for perfect drying. The transparent lid allows you to keep track of the entire drying process as well as preventing heat loss from the operation. The trays can be adjusted for height so that you can easily dry a variety of foods with different thickness.
Furthermore, the Food Dehydrator works silently with little energy consumption and has a built-in overheating protection to ensure nothing goes wrong with the drying. And after the drying's been done, simply wash the plastic trays by hand or with the dishwasher.
FEATURES
✔️  ELECTRIC DEHYDRATOR: A multi-tier electric food dehydrator that can preserve varieties of food. Produces nutritious food with very simple preparation. No food will spoil and go to waste with this food preserver.

✔️  EASY ACCESS AND OPERATION: Built with easy to use one operational button. Choose to dehydrate with just a click. It has a temperature control system varies from 35°c to 70°C depends on your food

✔️  STACKABLE TRAYS: Comes with 5 removable stackable food trays or dryer trays. These trays can also be used to dry food without the use of the dehydrator. Since the trays are removable, they are very easy to clean including the dehydrating machine.

✔️  PRESERVE FOOD: This dehydrator uses temperature control for food preservation. It can dehydrate and preserve meat like the infamous beef jerky. Also a maker of organic healthy snacks by dehydrating fruits, vegetable and make potato or kale chips etc.

✔️   HEAT CIRCULATION: Scientifically tested to increase food shelf life with high heat circulation that travels  through each tray. Effectively dries food by removing moisture content, shrinking the food but still retain 97% of vitamins and minerals.
How to use ?
Specifications 
Package includes 
1x Food Dehydrator 
Payment & Security